Thai Massage
Thai Massage is an ancient form of healing dating back over 2500 years. This unique form of massage uses pressure along the energy lines of the body to stimulate the natural energy flow and enhance the overall feeling of well-being. Deep muscle pressure releases stress and tension promoting muscle tone and repair. The massage penetrates deep within the body and boosts the circulation of the blood and the lymphatic system, helping to flush toxins from the body. Yoga based postures are used to gently pull, manipulate and stretch the body to aid relaxation and promote flexibility and good posture. Unlike western massages, Thai massage is conducted on a futon type mattress on the floor. The floor creates greater freedom for the unique techniques of this style of massage to be used. Please note: You remain fully clothed through-out your massage, so please wear something loose and comfortable.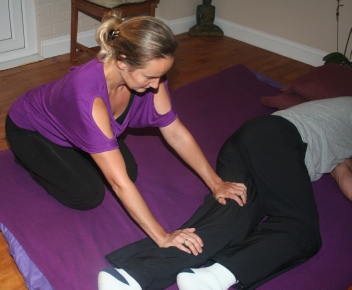 Shiatsu Bodywork
Shiatsu may look like Thai Massage on the surface in that it is carried out on a mattress on the floor, fully clothed and without oil. But it has quite a different feel to it. Based on traditional Chinese medicine it takes into account our emotional body as much as our physical body, a very healing and nurturing treatment that balances our Chi (subtle energy). It could almost be described as a cross between Thai Massage and Reiki.
---

Thai Foot Massage
This deeply relaxing massage for the feet and lower legs incorporates reflexology. A mixture of soothing oil and cream is used to stimulate the reflexes of the feet, boosting circulation of the entire body and flushing out toxins. In this way the whole body's natural equilibrium is restored and the immune system strengthened.
---
Combined Thai Body/Foot Massage
Get the best from both these treatments with an invigorating full body massage followed by a soothing foot massage.
---
Treatments cost £45 per hour and take place at Liddington Village Hall meeting room (upstairs) on Saturdays.
A treatment can be a combination of Thai Massage, Shiatsu bodywork and foot massage depending on what you'd like, how you feel , and what I feel you need at the time.
GIFT VOUCHERS AVAILABLE
Published on 20 April 2017